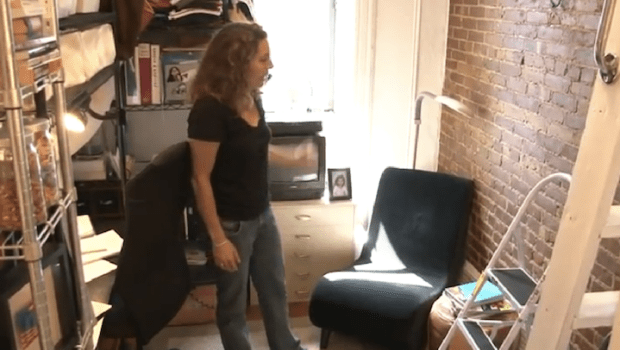 A view of one New Yorker's 90-square-foot apartment.
Remember the woman who was living in the
90-square-foot microstudio
on the Upper West Side in Manhattan? Writer Felice Cohen had made the tiny apartment her home for five years, using a plug-in hot pot as her kitchen, resorting to tall furniture as opposed to wide, and slanting her knees when using the commode. (Yes, there was space for a commode!)
Her rent? $700 a month. Considering that most studios are more than $2,000 a month, that's a palatable price.
Felice recently moved into a larger home, but not because she gave into claustrophobia, reports
Laughing Squid
. Her landlord discovered she wasn't on the lease and threatened her with eviction if she didn't agree to pay double the rent. So, now she's living in a (relatively speaking) mansion of her own--a 500-square-foot apartment, still on the Upper West Side, with a large kitchen and separate bedroom.
Felice is now writing a book about living large in a small space.