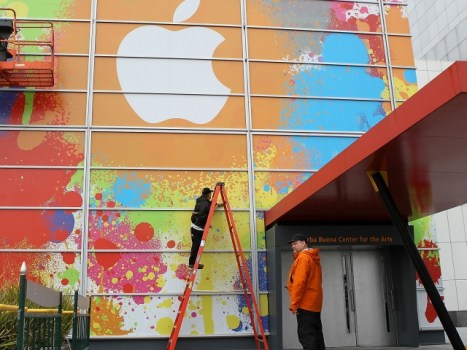 Getty Images
Workers apply the Apple logo to the exterior of the Yerba Buena Center for the Arts in preparation for an Apple special event January 26, 2010 in San Francisco, California. Apple Inc. is holding a much anticipated special invitaion only event at the Yerba Buena Center for the Arts on January 27th where CEO Steve Jobs is expected to unveil a new Apple tablet computer.
Apple's devices already have a huge following in China, and it's about to get even bigger in 2011, according to Digitimes.
The Foxconn Group -- a major manufacturer and parts provider for various Apple products -- owns Cybermart international, which is a major retail chain.
Right now there are 34 stores, with plans to add 7-8 in 2011 -- with an ultimate goal of having 500 retail shops across China.
Apple has given Cybermart "first-grade retailer" status, allowing both companies to synergistically grow their Chinese footprint.