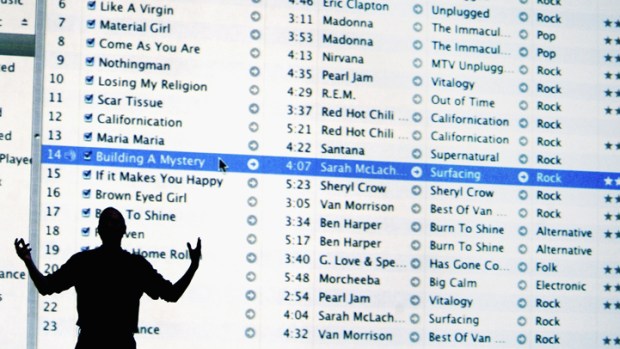 Getty Images
Steve Jobs stands by a projection of the iTunes website as he launches iTunes Music Store in 2004 in London. The iTunes store revolutionized music, allowing users to buy and download albums or individual songs from a library of 700,000 songs.
Amazon music downloads have grown and taken a bite out of Apple's iTunes.
In 2012, Amazon had 22 percent of paid music downloads in the United States, up 7 percent from 2011, according to the New York Times. The study, from the market research firm NPD Group, also reported that Apple's iTunes still has 63 percent of all paid downloads. The report said 44 million Americans purchased at least one song or album last year.
"NPD estimates that average per-buyer spending on music downloads increased 6 percent, year over year, due largely to increases in music purchasing by teens, along with an increase in the number of consumers purchasing both single song tracks and full albums," NPD said.
The news seems to indicate to Apple that its iTunes store isn't the only game in town. In fact, Amazon is certainly flexing its muscle and its Kindle Fire tablet along with the Android platform and AmazonMP3 digital music service. We expect Amazon to continue to grow its market share into the next year.