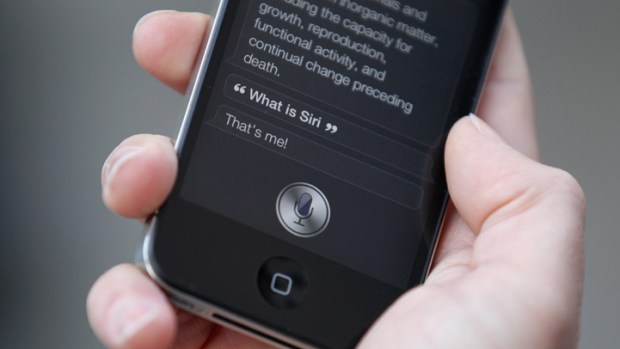 Getty Images
A man uses 'Siri' on the new iPhone 4S after being one of the first customers in the Apple store in Covent Garden on October 14, 2011 in London, England. The widely anticipated new mobile phone from Apple has seen customers queue in cities around the world for hours to be amongst the first to buy the device.
A patent lawsuit against Apple's virtual assistant, Siri, was delayed because the judge assigned to the case recused himself -- likely because he owned stock in the Cupertino, Calif. company, according to reports.
CNET reported that District Court Judge Gary Sharpe stepped down Tuesday citing the law, "Any conduct that would lead a reasonable [person] knowing all the circumstances to the conclusion that the judge's 'impartiality might reasonably be questioned' is a basis for the judge's disqualification." (As is typical, the "interest" Sharpe had isn't known, it probably means something innocuous. It could even mean he owns shares of Apple.) District Judge David Hurd will now take over the lawsuit.
The case was filed against Apple by Dynamic Advances, a Texas company which owns the '798 Patent with deals with voice recognition technology. The owner, Erich Spangenberg, "is known for a 'sue first, ask questions later' approach to patent infringement."