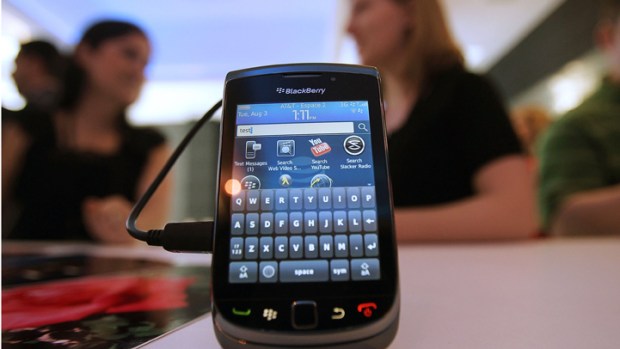 Getty Images
The new Blackberry Torch 9800 smartphone is seen after being unveiled at a news conference Aug. 3. The new device by Blackberry maker Research in Motion features a touch-screen and slide-out keyboard along with new 6.0 software in the company's ongoing battle with Apple's iphone and other mobile devices.
Research in Motion plans to begin selling Android-compatible BlackBerrys in early 2012, hoping to boost its sagging smartphone sales.
The report, confirmed by no less than three sources by Bloomberg, said that RIM's new BlackBerrys will have QNX-based software and will be Android-compatible (just like RIM's PlayBook.) Previously RIM stated that the PlayBook can use Android Market apps, but nothing has been said publicly about the QNX-based smartphones. There are more than 250,000 apps in the Android Market, about six times more than RIM's App World.
"Being able to run Android apps, that's a big plus," said Steven Li, a Raymond James Ltd. analyst in Toronto with an "outperform" rating on the stock. "If you get the tonnage of Android apps and the top 50 apps through BlackBerry's App World, that addresses many of the concerns people have about RIM's ecosystem."
The possible development can only be a positive for RIM as it loses ground against Android and Apple's iPhone. It will at least give current BlackBerry users more of a reason to stay with the brand than jump ship to an Android smartphone.