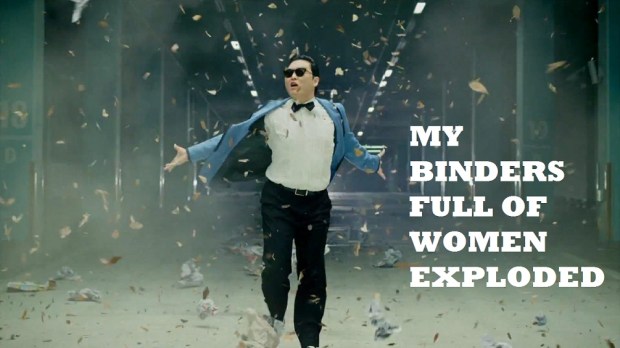 HeyVeronica via Tumblr
Presidential hopeful Mitt Romney's offhand comment Tuesday night about perusing "binders full of women" to fill his state cabinet has sparked a viral tidal wave of Facebook pages, tweets and blogs.
The phrase was his response to a question on pay inequality between men and women and inspired a Facebook page with more than 300,000 fans, Twitter hashtags, a blog and several memes, CNN reported. The phrase was also the third-fastest rising search on Google during the debate.
"Binders full of women cost 77 cents, while binders full of men cost $1."

"Do they sell #BindersFullOfWomen at Staples?"
While the initial reaction might have been one of curiosity and comedy, it's now become
decidedly political
. "Women have held the highest political office in Israel, Germany, and the United Kingdom," Maria Panaritis wrote in the Philadelphia Inquirer. " In America, by contrast, voters have preferred to behave as if the White House had a 'men-only' sign hanging in the Rose Garden."
Democratic strategist Maria Cardona also
weighed in
on CNN.com. "Even as a slip of the tongue, this odd phrase betrays Romney's true lack of understanding, knowledge and comfort level on women's equality," she said.