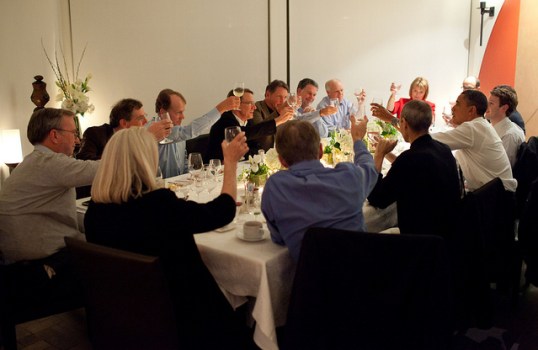 The White House
President Barack Obama joins a toast with Technology Business Leaders at a dinner in Woodside, California, Feb. 17, 2011. (Official White House Photo by Pete Souza) This official White House photograph is being made available only for publication by news organizations and/or for personal use printing by the subject(s) of the photograph. The photograph may not be manipulated in any way and may not be used in commercial or political materials, advertisements, emails, products, promotions that in any way suggests approval or endorsement of the President, the First Family, or the White House.
Steve Jobs, Apple's chief executive who left on indefinite medical leave last month, showed up at Thursday's tech dinner with President Obama in his trademark black turtleneck and was given one of the best seats of the night -- on Obama's left. Facebook CEO Mark Zuckerberg shared the honor by being seated on Obama's right. (Zuckerberg decided to forgo his signature graying black hoodie for a striped button-down and jacket.)
All were meeting at the home of venture capitalist John Doerr in Woodside, Calif., according to Reuters. Other guests of the night included Larry Ellison, CEO of Oracle, Yahoo CEO Carol Bartz, Cisco Systems CEO John Chambers, Twitter CEO Dick Costolo, Netflix CEO Reed Hastings, Genentech chairman Art Levinson and Google's Eric Schmidt. Stanford University president John Hennessy and former state controller Steve Westly filled out the guest list.