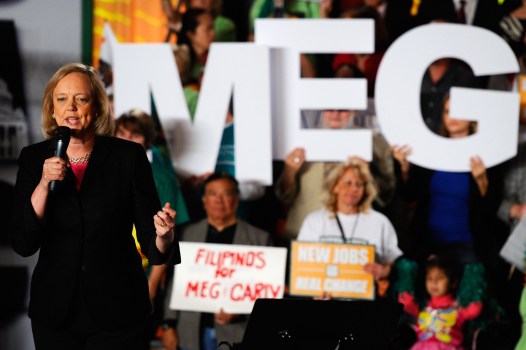 Getty Images
California Republican gubernatorial candidate and former eBay CEO Meg Whitman speaks during a campaign event on October 31, 2010 in Burbank, California.
Meg Whitman is being written off, as every poll shows her trailing. (Privately, her own aides acknowledge as much). But in her final appearances (including one I witnessed yesterday in the Orange County community of Costa Mesa), Whitman is arguing that the get-out-the-vote operation she has funded will help her spring an upset.
There's no way to know for sure. The election itself will be the test. But Democrats I talk to are a little bit nervous about this. Brown does not have a particularly well-funded or substantial get out the vote operation. He's outsourced this work to his party and to his labor allies. The turnout work of California's unions has been notoriously uneven. I'm a decline-to-state voter who has received a couple of calls from labor-funded phone banks asking if I'm going to vote. One caller, representing himself as being from the California Labor Federation, was extraordinarily rude. If you're a Brown fan, you better hope that that's not the pattern.