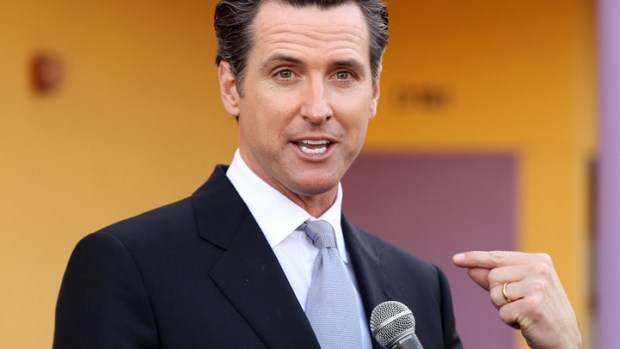 Getty Images
SAN FRANCISCO - NOVEMBER 12: San Francisco mayor and California Lt. Governor-elect Gavin Newsom speaks to reporters after meeting school children at Fairmount Elementary School on November 12, 2010 in San Francisco, California. San Francisco mayor Gavin Newsom announced today that he vetoed a controversial legislation that was approved by the San Francisco board of supervisors that would ban toys in fast food "happy meals." He promoted his "Shape Up SF" program as a more effective way to combat childhood obesity by encouraging children to eat better, exercise and for schools to offer healthy food choices that include fresh vegetables. (Photo by Justin Sullivan/Getty Images)
If you think the lieutenant governor of California works in Sacramento - think again. The person who holds that office is the former mayor of San Francisco and from the get go of his run for the state office, Gavin Newsom said he had no intention of leaving his hometown.
Most folks thought that meant he would get an office at City Hall or another state building. Not so.
Newsom has set up his new office in the South of Market district of the City alongside budding new start-ups. It's called the Founders Den and he's the offices star tenant.
Newsom Tweeted out a TechCrunch article on his new digs Monday afternoon. Below is the video release of his interview with MG Siegler. Newsom makes the argument for why this office and this surrounding makes sense to him.