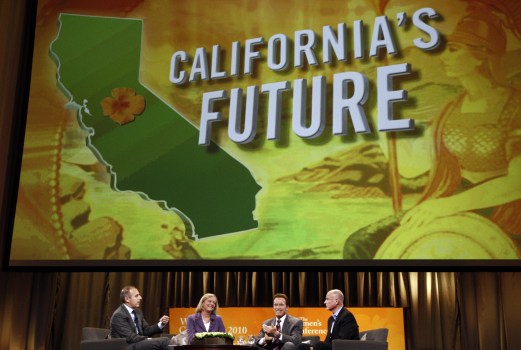 AP
In this file photo taken Oct. 26, 2010, from left, Matt Lauer, California gubernatorial candidate Republican Meg Whitman, Calif. Gov. Arnold Schwarzenegger, and California gubernatorial candidate Democrat Jerry Brown are seen on stage at the annual Women's Conference in Long Beach, Calif. California's gubernatorial candidates, who will face a $12 billion budget deficit when they take office, and candidates in other states faced with enormous deficits are playing tricky political games. They promise to erase the paralyzing deficits but generally avoid the painful details of what it will take to accomplish that.
In media reports of Gov. Jerry Brown's plan to eliminate local redevelopment agencies, two errors appear frequently, as my California Crackup co-author Mark Paul explains at the California Fix.
1. The state is portrayed as grabbing local money. It isn't. Redevelopment agencies are the grabbers.
2. Brown isn't eliminating local redevelopment. He's changing how it's financed.
You can read the full explanation here.