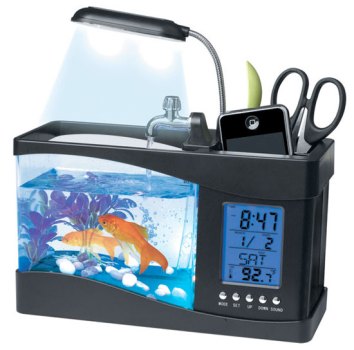 An aquarium at your cube would sure look pretty.
Face it: your cubicle is a little lifeless. Sure, you've got a Nerf gun and pictures of your family, but where's the life. You need to be able to take care of another living thing in order to feel alive in your cube, and that cactus ain't cutting it.
This USB aquarium is designed for the cubicle slave, just big enough to keep a couple of wee goldfish alive for your entertainment while also providing a clock, calendar, weather report and space for your pens and other assorted office detritus. Sure, you'll probably end up killing those poor fish before too long thanks to never feeding them over the weekends, but hey, it's either them or you.