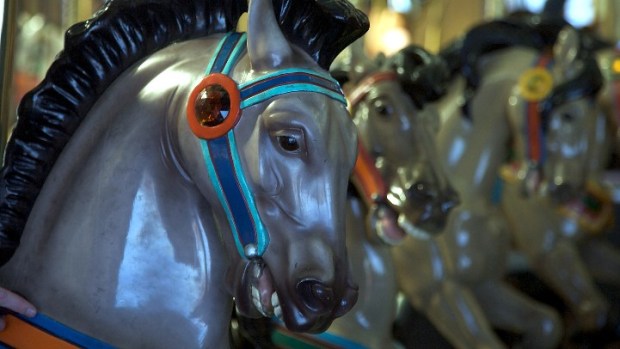 Getty Images
A rider is going to ride the Santa Cruz Beach Boardwalk carousel 100 times on Wednesday, Aug. 3, in honor of the attraction's 100th birthday.
LOOFF LOVE: Yeah, we're obsessed with California carousels. What of it? We want to pretend we're in "The Sting," maybe. Or maybe we have issues with fitting in with these newfangled times. Or perhaps it is the fact that a ride usually only costs a couple of bucks, if that, but you get an instant and long-lasting shot of whimsy. Let's call it "all of the above" and turn our attentions to the Looff Carousel at the Santa Cruz Beach Boardwalk, which is celebrating its 100th birthday with a brass-grabby-ring-deal through Sunday, Aug. 7. But the high-spirited proceedings are about to get loads more whimsical. Loads. Oodles and loads and buckets more. So. Lots.
100 RIDES: On Wednesday, Aug. 3, an intrepid merry-go-rounder will attempt 100 rides on the Looff, in honor of the landmark's centennial. It'll take about 10 hours for the young gentleman to do so, says the Boardwalk people, if you're wondering. And we bet you are. So if you're thinking of getting down to Santa Cruz to try for one of those special brass rings, Wednesday could be a lively day to do so (although we can't imagine a non-lively day there). Just, if you're riding with the guy who has been on for 67 rides and counting, be nice. We know you will be. But don't muscle him out for a horse you have your eye on. We've all been there, right, carousel enthusiasts? The hairy eyeball and the wending around non-desired horses and the quick snatching of the reins. We're not pointing fingers here, except at ourselves. Maybe it is because we're all needing our whimsy so darn much and will go to great lengths to get it. Ten hours of solid carouseling qualifies as "great lengths" in our book, by the way.