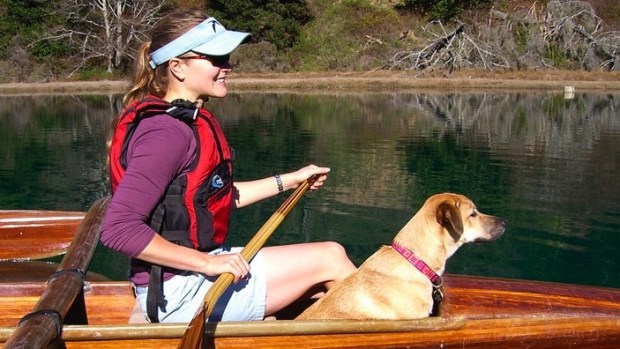 Catch a Canoe
Book a River Dog Package with the Little River Inn and take a canine-nice excursion with Catch a Canoe.
WATER DOG: Cartoonists and comedians and commercials often portray dogs as being afraid of the bathtub. The mere sound of the tap running sends our pups running, according to many. But many if not most dog owners know differently. We've seen our pooches attempt to crawl into a tub on their own, and we've seen them run for a swimming pool if a door is left ajar. They're also frequent sights on California river banks and beaches come the warmer months. So it fits that a Mendocino County canoe company would team up with an historic local inn for a dog-sweet package that gets humans and hounds out on the river waves. The inn happens to have "river" in its very name, so you know the H20 isn't far-off: It's the Little River Inn. The deal is called the River Dog Package.
IN THE PACKAGE: You get to ride with your pup in a canoe on a three-hour excursion. Aces. Catch a Canoe is the company that outfits the trip. Also? Little River Inn'll swing you an eighty dollar voucher for food at the hotel. The part we're taking a shine to? You can eat in the "dog-friendly parlor" with your canine friend. Room service is fine, too, but we like the public-dining option; people who travel with their animals know this isn't always a choice. And finally, free dog-sitting is provided while you take a trip on the nearby Skunk Train. Again, free dog-sitting? Not always an option, even at the friendliest of Fido places. For more on the River Dog Package, which kicks off in April, and the Little River Inn's interesting history (including plenty of Hollywood stars), read on, read on.