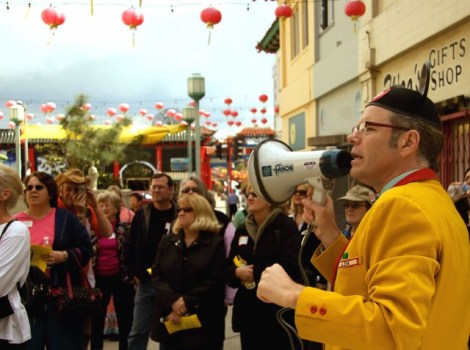 Buz Carter
History-loving entertainer Charles Phoenix's Downtown Disneyland Tour rolls in Los Angeles on Sunday, Dec. 2.
DISNEYLAND DOWNTOWN: Fans of the Happiest Place on Earth -- and we're talking the very, very serious fans, the people who can discuss the camera techniques in "The Old Mill" and why "Snow White and the Seven Dwarfs" changed animation history forever -- need to get their Disneyland joy in a variety of ways. Maybe it is trying a favorite ride at night or maybe it is visiting during the holidays or maybe it is collecting all the new pins. (We love pin collectors.) But there's another way to view the Anaheim theme park, and it isn't even in Anaheim. It happens in downtown Los Angeles, every so often, and for fans of theme architecture and mid-century kitsch, it is a bit of a wonderful and, yep, unusual boon. We're talking about the Disneyland Tour of Downtown Los Angeles, which isn't helmed or overseen by Disney but rather LA's own history-loving entertainer Charles Phoenix. We call Mr. Phoenix of LA but of course his retro-smart slideshows and kooky holiday recipes are known far and wide (NPR and Martha Stewart Show far and wide). But his Disneyland Tour of Downtown Los Angeles? It's only in Los Angeles, as the name implies, and the next one is up on Sunday, Dec. 2.
SCHOOLBUS ADVENTURE: Attendees board an old-school school bus and toodle by buildings that may or may not have connections to places within the Magic Kingdom. Olvera Street, Chinatown, and the Bradbury Building (you know that from "Blade Runner," of course) are all stops along the way. We recommend it to adult fans of the park as part of a larger weekend visiting the park; you can do Disneyland on Saturday and Mr. Phoenix's tour on Sunday. A ticket is $79 (snack and souvenir included). You'll remember your mouse ears, right? Of course you will.