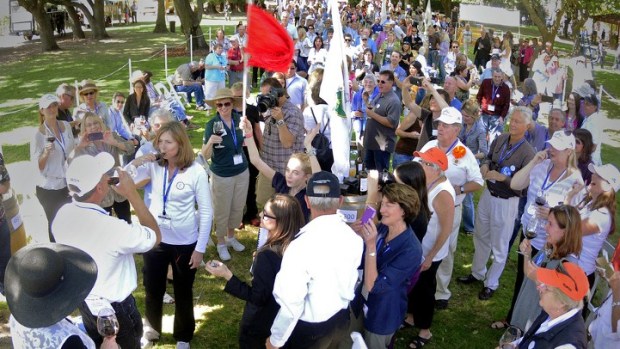 Charles O'Rear
Some 487 people clinked at glass at the Napa Valley Wine Wave. The world's longest rolling toast broke a record on Sunday, Oct. 7.
GUINNESS AND GRAPES: When we heard that hundreds of revelers were going to gather at the Charles Krug Winery in St. Helena to go for a rather tempting world record, we were intrigued. One, the Napa Valley Wine Wave would, spoiler alert, involve wine, which is lovely. Two, it would be a nice winery, which is sweet. Three, it would happen on an autumn Sunday, which is just about the best day of the week and year. And four, it would require those hundreds of people keeping up on very, very long toast. (And you thought the toasts at your brother-in-law's bachelor party went on far too long.) So when we heard that the Guinness Book of World Records record was indeed broken on Sunday, Oct. 7, and that 487 people participated, which is just thirteen people shy of the 500 people predicted, we had to pause and make mention here. Because the most notable part of this day? It raised funds for agriculture and wine education, meaning it ultimately may help the vintners hosting the future wine toast record-breaking attempts. And so the circle goes.
If you'd like to see this world record in action, there's video below. If you'd like to know what's happening the St. Helena area in the beautiful month of October, here's more information. Cheers!