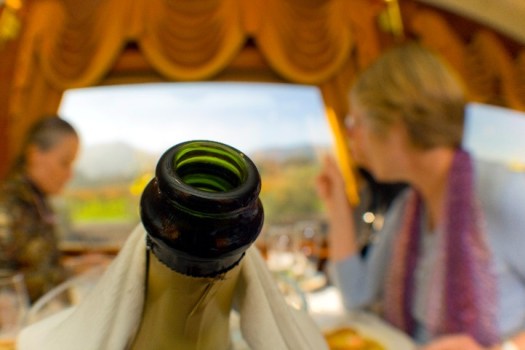 Napa Valley Wine Train
Mom loves merlot? Treat her to the Napa Valley Wine Train on Mother's Day.
TREATING MOM: How do you define "going all out" when it comes to your mother? We expect that you think big and grand and splashy in this particular area, as you well should. But the issue with going all out for your mom is she always seems to protest (although, inside, she always loves it, really). We think the Napa Valley Wine Train is the perfect balance between your need to do it up on Mother's Day and your mom's need to feel like a fuss isn't being made. You're not jetting mom off to Paris, but you're not making her a grilled cheese at home and calling it a day, either.
NAPA NICE: The Wine Train says that there are a few spots left for the Gourmet Dinner on Sunday, May 8. What's on the fancy menu? Harlequin Sorbet, breast of chicken with some coriander in the mix, seafood and sweet pea ravioli. The price is $99 a person. If you've already got your holiday go-out on the books, maybe your mother would prefer the mystery train; the Wine Train has one scheduled on Friday, May 13.