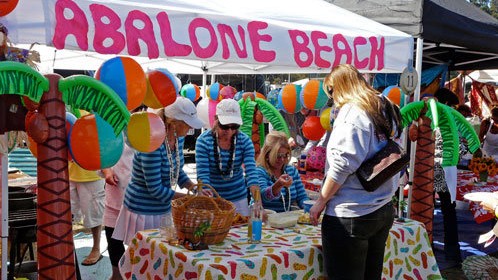 Nancy Barth
The Abalone Cook-off and Festival happens in Fort Bragg's Noyo Harbor on Saturday, Oct. 8.
FOOD FESTS: Ice cream festivals? Not uncommon. Heck, we even see them pop in the wintertime, which just seems audacious to us. Like. Playing with the rules or something. Wine festivals? Lots of those, too, and thank goodness for that. Abalone festivals? Not really happening every weekend, right? Or every month? And one does not see the abalone feted outside of a certain Golden State stretch. What we're getting at, of course, is that an abalone festival is mighty special, and if you're an abalone aficionado? We can only assume you've cleared your calendar on Saturday, Oct. 8. That's when fans, cooks, and people sweet on the sea will gather at Noyo Harbor in Fort Bragg.
THE BIG DAY: The meaty mollusk is the star, of course. There will be the usual festival touches, like music and wine and beer. And many cooks at the grills and on those grills? Yep. Something that came from a beautiful, iridescent shell. If you're wondering how the abalone is procured, organizers say that "the cook teams dive for their own Wild Abalone and follow Fish & Game rules when diving for and preparing abalone." Certainly good to know. If you want to judge the dishes, you'll need a ticket, but the fest itself is free.