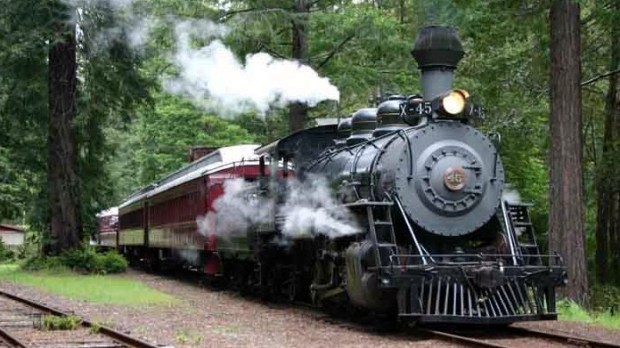 Skunk Train
The Skunk Train is will set out from Fort Bragg with crab and wine aboard.
SUPPING BY THE SKUNK: California has many pleasures. Being first in line for the Matterhorn or Space Mountain on a sunny summer Saturday is up there. Spending a perfect autumn day on a perfectly breezy beach is another. And bundling up and eating barbecue, beans, and beer among the redwoods is just way, way up there, especially if you've arrived at the down-home lunch via one of the country's most historic railways. The Skunk Train out of Fort Bragg is pretty famous for delivering its riders to a tree-dapply spot called Northspur Station after some wending through the trees. Once at Northspur, riders may purchase all sorts of stick-to-the-ribs eats for some picnic-bench-style snackin'. This is the way it rolls on the train, mostly, save one pretty notable exception: When it is the crab's day in the sun around Mendocino County.
WINTERTIME FEST: That moment happens in January, during the area's huge Crab, Wine & Beer Festival, which is set to snap its claws starting on Friday, Jan. 18. In honor of this feasting, the area's most famous conveyance changes up its bbq and beans for two Saturdays, hosting instead a Crab & Wine Express. Crab Louie is the order of the day -- mmm, creamy deliciousness -- and local Mendocino wines. It's the ideal complement to the festival, pairing a prominent local attraction with the cuisine that everyone is in the county to try. Yep, we'll be glad when the Skunky gets back to its Northspur brews and potato chips and such, but we don't mind getting a little fancy on the rails now and then. Cost is $70 for an adult and the dates are Saturday, Jan. 19 and Saturday, Jan. 26.