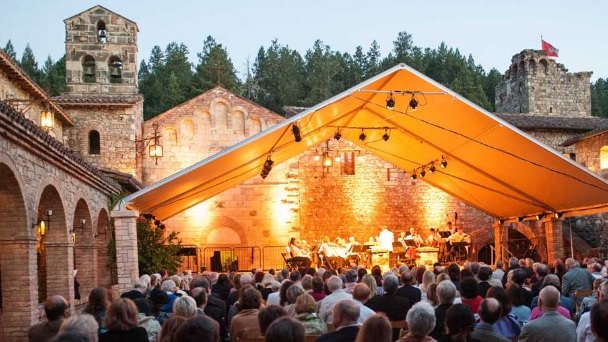 Festival del Sole
Festival del Sole lights up Napa Valley from July 11 through 20, 2014.
CULTURE SWEET: Summertime music-food-performance festivals boast the high-brow-o-sity of a wintertime plays and readings and operas, but with a few season-specific benefits. One? They tend to be outdoors, or mostly, which, regardless of how sunny a winter's day is, is still mostly not a good idea on a damp December evening. Two? Al fresco fetes lend themselves to pre-performance supping and post-performance supping and supping between act breaks. And three? Sundresses, sunglasses, and barefoot walks through grass. One is not encouraged to go barefoot at the opera in January, though we've often thought it might stir things up a bit. And while the east coast has its share of legendary culture fests come July and August, California boasts a few first-rate parties of the mind and palate as well. Exhibit A? Napa Valley Festival del Sole. The line-up and details for the July-time soiree were just announced, giving fans a handful of months to dream of outdoor arias and local wines.
ON THE BILL: Joshua Bell -- indeed, the Grammy-winning violinist -- opens the July 11 through 20 run with a take on Vivaldi's "The Four Seasons." More treats await fest goers during the multi-day to-do. Conductor Carlo Ponti will honor his mother Sophia Loren by taking the stand before the LA Virtuosi Chamber Orchestra. A Taste of Napa is another highlight, but, of course of the culinary sort: Look for 50 wineries and chefly sorts to make a flavorful showing. And shall there be Vintner's Luncheons and Patron Dinners? You bet. Theater, drama, song, and the breaking of bread come together in the valley in myriad ways over the middle of July. Think of it as swanky stories for the mind with a dose of pretty summer casual. Hey, someone put that on a festival tote bag, or, better yet, create more Golden State summer festivals spotlighting story, supping, and socializing.