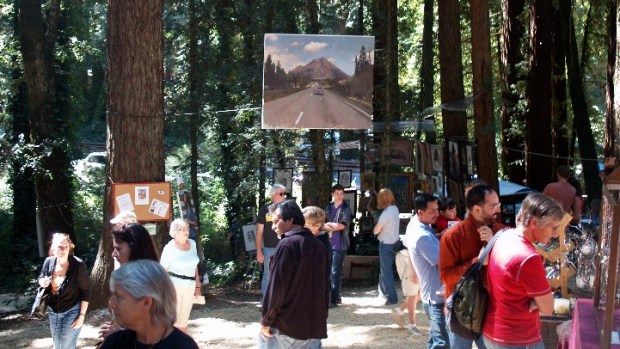 King's Mountain Art Fair
The Kings Mountain Art Fair spreads out among the redwoods of Woodside from Saturday, Sept. 1 through Sunday, Sept. 3.
WHAT'S IN A SETTING: Our state boasts a bevy of art festivals, and while the setting of each fest isn't necessarily the important thing, it can matter. Is it a fun place to chill out? Does the art display well there? Is the lighting good? Does it lend anything to the ambiance? We don't have to plan festivals, so our props go out to the people who do; we can't imagine wrangling a whole weekend where loads of artworks will be briefly on display. We're simply saying that a great environment can make for a great gathering. The Kings Mountain Art Fair has just that, and has for decades: It's the art festival that's set in the redwoods. And, nope, not at a community center or other building in the redwoods; it is actually among the trees near Woodside, California. And since so many paintings are inspired by nature, it feels right and good to see the final products displayed in the dappled light and foresty setting.
2012 DETAILS: The fair will hang the paintings among the bushes from Saturday, Sept. 1 through Sunday, Sept. 3. Admission is free and parking is free, too (those two are so rarely simpatico). And nicest of all? The fair raises funds for the local volunteer fire brigade. If you've been through a few hot days this summer, a morning out under the redwoods, admiring and/or purchasing art, might be a grand way to kiss this hot August off.