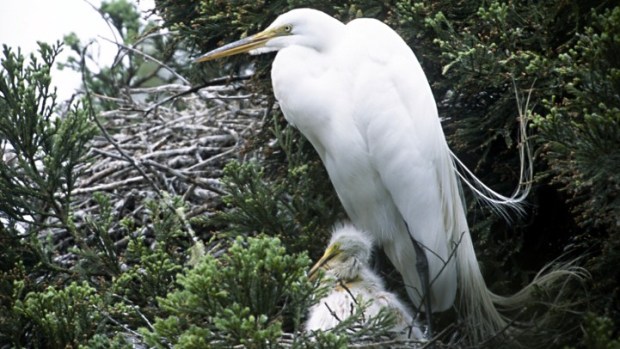 Audobon Canyon Ranch
An egret chick and its mom pictured at Audubon Canyon Ranch. The Martin Griffin Preserve at the ranch will end its 2012 season on July 15.
INSTANT CALM: Whenever we see one of those top ten lists that suggest ways of de-stressing, we do two things. One? We kind of guffaw, a bit, at the word "de-stress"; what's the word for not even allowing stress in in the first place? That word. We want that. And two? The suggestions are all well and good, usually, for the most part, but all the list maker needs to do is list ten nearby green places that are full of nature and free. Done. That's it. That's the ultimate de-stressing list. And we'd put the Martin Griffin Preserve at Audubon Canyon Ranch near the top. Yep, it is free, although donations are accepted and yep, it is peaceful and magical and, during certain times of the year, there happen to be egret chicks about, and just typing those words instantly unknots the shoulders. We happen to be in that time of year now, but the season at the preserve is wrapping up, so if you're going to get your egret admiring on, best do it now: The 2012 closing date is July 15.
A FEW TO-KNOWS: The preserve is open on Saturday and Sundays, and holidays, too. There are 59 "active" Great Egret nests on the thousand acre preserve, but don't stress if you don't know where you last saw your binoculars; each viewing platform comes with some. "Viewing platform" are also de-stressing words; if you're on a viewing platform you're somewhere fun. For directions to the preserve, which is about a half hour or so from San Francisco, and all your egret info, flap this way.