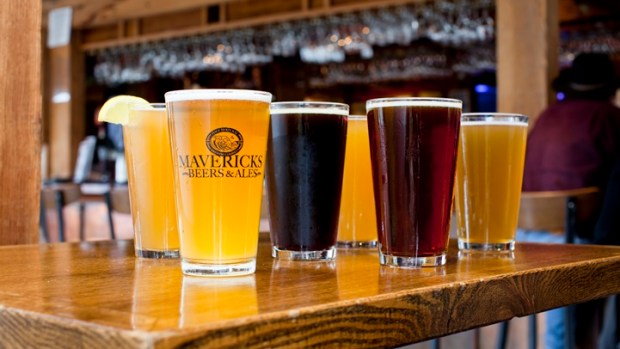 Chris Andre Photography
The Beer vs. Wine Dinner at the Half Moon Bay Brewing Company pours on Wednesday, Jan. 22.
DRINK DUO: "Or" can be a powerful and distancing word when it shows up between two distinct things. We're asked if we'd like red chile or green chile for our enchilada. Our server wonders if we'd like pinto beans or black beans. And do we want ice cream or cake? Hmm. The obvious answer is sometimes we want both, though "both" is all too often not a box we're permitted to check. Except at a special night that brings two old "or"-facing libations face-to-face for a single dinner. We speak of beer and wine, and, yep, the timeless beverages more often than not appear together with an "or" in the middle, much like a distancing armrest at the movie theater. That's okay, of course; you need to choose one, enjoy responsibly, and savor the sip alongside your meal. But Half Moon Bay Brewery is going to upend the "or" bit of the equation and pit beer vs. wine during a special Wednesday, Jan. 22 dinner. It is, in fact, called Beer vs. Wine -- catchy -- and diners can vote on whether the beer or wine served alongside a particular dish was the better pairing.
AND, IN THE HOUSE... making those very pairings will be Brewmaster James Costa and wine honcho Sewell Hatcher. They'll do the explaining, as to why you've got a glass of Princeton by the Sea IPA and a glass of 2010 Hatcher Winery Mourvedre alongside Mac & Cheese with Harley Farms Fromage Blanc and Cowgirl Creamery Red Hawk Triple Cream. (Please want now thank you.) Then you're the judge, sipping, then taking a bite, then sipping again. Should wine or beer have gone with that mac? What's your opinion? Call it an interesting night for patrons who, as a matter of course, ask for drink-dinner pairing recs. This is your chance to answer back, as to whether wine or beer works best with particular flavors, and try some excellent food, and local sips, in the process.