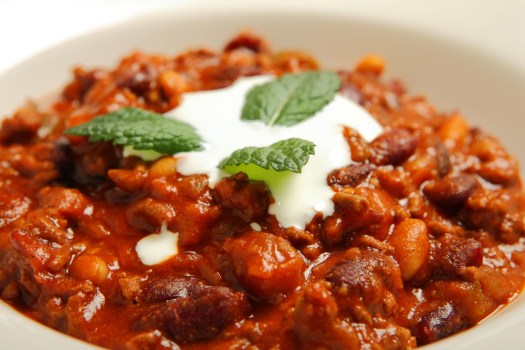 Shutterstock
If you're in Benecia on Saturday, March 23, and there's a bowl in your hand, it's likely something like this will be inside of it.
FOOD THEORY: We absolutely brim with theories and notions regarding what foods are best when and what dishes should be served during what times of year and when is best to eat spicy or bland entrees. But we're not alone in this; food is one of the only things where just about everyone thinks he or she is an expert. In short? There's no shortage of opinion. One opinion we likely share with many people is that chili is good. Uncontroversial? Cool, moving on. The second opinion we have in regards to chili is that both beans or bean-free is a-ok. Aha; now we're starting to raise some hackles out there. And the third viewpoint we hold? If you're going to do a chili festival, where several types from several restaurants are served, the best time of years isn't the dead of winter, which seems to be chili's BFF, but rather the cusps of spring and fall, when the air is crisp and brisk. There are asterisks to this, depending on climate (for example, beach fests are good all year long). Benecia, though, is doing it right with its annual chili gathering; it's the first Saturday after the first day of spring which, this year, is March 23.
HOW YOU CAN TASTE: A bevy of Benecian restaurants'll be doing the cooking honors and you? You can do the buying-of-ticket honors. They're twenty bucks at the door, which nets you twenty tastes plus cornbread. (Anything that comes with "plus cornbread" gets an automatic Like.) Three judges will be judging the best bowl, vegetarian, and the most creative from restaurants like Sprankle's Deli and Wild Fire. Oh yes; we think we can spend a beautiful spring Saturday knocking back twenty spoonfuls of spicy stuff. If only every Saturday could deliver on this front.