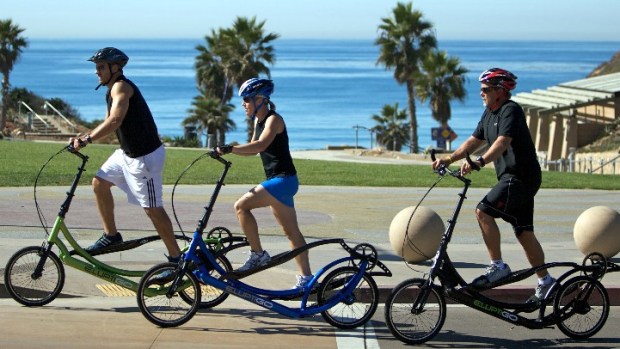 Casa del Mar
Casa del Mar guests can take to the Strand in Santa Monica on new ElliptiGO bikes.
STRAND-CLOSE SETTING: Hotels may come and go in this world, but Casa del Mar in Santa Monica has had, for the better part of a century, one of the planet's most premiere locations. It faces the beach in the famous beach town it calls home, meaning that any time a guest wants to leave the property -- and the 1926 hotel is pretty swank, so that is fairly rare -- the beach is right there. And if you know your Santa Monica, you know what is also right there: The Strand, a haven for people who like to put on wheels and roll. But what to do if you arrive at Casa del Mar without your bike? No sweat, or, at least, no sweat before you get to the sweating part; the hotel now offers ElliptiGO bikes to guests for rent. If you're thinking that, by the name and the photo above, this is an elliptical cycle, why, you'd be totally correct. Pretty cool, right?
ALSO COOL: The hotel has just launched a line of fancy snowcones. The flavors include strawberry mint, apple grape, blueberry & raspberry, plus two unique selections: tomato & caper and carrot rosemary. We'd been wondering what might take the sweet snack crown from cupcakes and frou-frou donuts; could the snowcone, elevated from its humble paper cup status, be the next big winner? Whatever your flavor, figure a few minutes on the bikes, which hail from San Diego, will work off any of the sweetness. And The Strand and those Santa Monica beach views? Those are yours to keep forever.