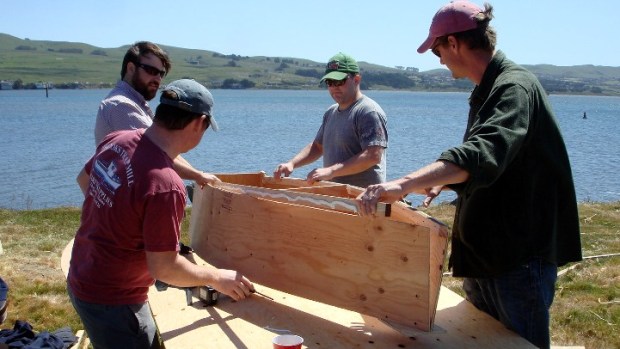 Bodega Bay's Fisherman's Festival
Could you put together a sea-worthy ship and sail it in under three hours? Several challengers shall take on the task in Bodega Bay on Saturday, April 26.
TO BE QUITE HONEST... most people, even those sorts who love all things sea, might have a head-scratcher of a time figuring out how to make one of those tiny, toy-like paper boats float. Water-worthiness is no mere walk in the park -- or, um, float upon the waves -- and putting together anything that can handle tides, even wee waves, is impressive. Now imagine being provided the tools and materials to build a boat, a boat that humans have to sit in, not dolls, and having to do it over the course of three hours. Yes, we did in fact mean "hours" there, not days or weeks. That's what's afoot over the last weekend in April in Bodega Bay at the annual Fisherman's Festival, one of the area's longest and most venerable annual celebrations of life on the water and those who fish. Timed to mark the start of salmon season, the Fisherman's Festival marked four decades last year, meaning its time-worthy traditions are very much in place: The Blessing of the Fleet is one, as is the bathtub race and the eating of barbecued oysters. And, yes, the ever-watchable, ever-root-it-on-able Wooden Boat Challenge, which does set people to sawing and measuring at 10 a.m. with the expectation that they'll be afloat by 1 p.m.
THERE ARE SOME ASTERISKS... with the boat building, too, which make it all the more lively and fascinating. Like? No power tools permitted. And decorations are okay, as long as they're not structural. Paddles and oars are okay, but, you betcha, they have to come from "materials provided" and not from the local oar shop. It's an educational watch, watching a boat come together from scratch. Make that a sailable boat. But, the whole of the Fisherman's Festival is about knowing what the lives of those who fish and bring back food from the watery deep are like and thanking them for their service and industry. If a barbecue oyster or some chowder is part of the scene, well, so much the better.