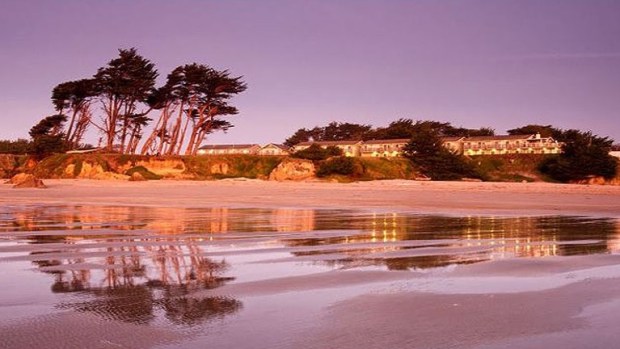 Mark Scheffer
Old-school and friendly to pets, Beachcomber Motel is in Mendocino County.
MOTEL CALIFORNIA: Hotels get a lot of ballyhoo in the Golden State, and certainly the high-profile and posh outfits. But our long and lovely home (California's kind of long, right? Or should we say "tall" instead? Don't look at us weird) is the origin point for the whole motel movement. We know, budget inns have been around since the invention of inns, but a motel is specifically tied to the early age of the automobile. (The "mo" in motel stands for motor, as you likely know.) California also has strong automobile ties as well, coincidentally, meaning that the first motel was founded here and the world's most famous motel chain. And let's add onto that the most well-known (and feared) motel of all time. And those are? Well, the Motel Inn of San Luis Obispo (much of the structure still stands), Santa Barbara's own Motel 6 (yep, that's where it started), and the Bates Motel (not real, but the set remains intact at Universal Studios Hollywood). So it's a pleasure to see the classics of California last. Not only last but thrive, even as the hospitality industry changes. And one place that's nabbed a spot in the Golden State motel A Team? The Beachcomber in Fort Bragg.
GREAT VIEWS: But what sets The Beachcomber apart from other inns is its rather epic views of the Mendocino County coast. Big Wave season, in January, brings out a lot of travelers, but because the motel is pet friendly it does barking business pretty much year-round. As for amenities you might not find at your average motel? In-room fireplaces and a spa. Oh, and packages, too: The Romantic Spa deal appeals but we see the Skunk Train on there as well. C'mon, you have to go Skunk Train, especially because two tickets are included with your two-night stay. However you work your Beachcomber sojourn, be sure to tip your hat to an ongoing tradition, the charming motel stop-over.