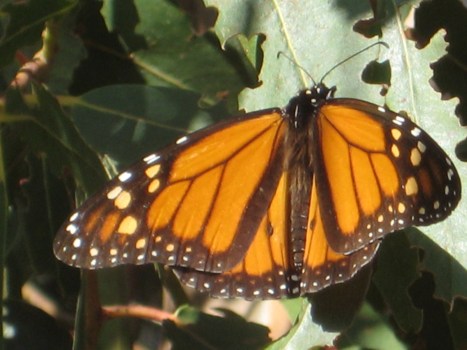 Marc Bouret
A monarch butterfly snapped in Pismo Beach. The community will fete its famous winter friends on Saturday, Feb. 4.
ANIMALS ♥ PISMO: We're not sure we've garnered many lessons in this life, but we hope we've learned the important ones. If you're going to shake hands, do so firmly. Always send your mom flowers on Mother's Day. And Pismo Beach? If you're a small creature, you clearly want to be in the beautiful Central Coast community. Most towns would be thrilled to be associated with one animal or beastie, but Pismo can lay claim to two: clams, natch, and the Monarch Butterfly (all right, pop-culture-minded wags out there, we know Daffy Duck and Bugs Bunny did make for Pismo Beach long ago, so add "rabbit" and "duck" to the list). Now, of course, many other communities up and down the coast get their share of Monarch action in the wintertime, but Pismo throws a party. It's doing so again in 2012, on Saturday, Feb. 4.
BUTTERFLY BASH: The California Western Monarch Festival boasts all sorts of fam-nice activities, but humans, large and small, pretty much come for one sight. They long to see thousands of brightly hued butterflies clustering in eucalyptus trees. Now, if you've wondered how many Monarchs winter in Pismo Beach, you're in luck; some kind insect aficionados keep an updated count. The last posted count was on Jan. 23. Butterfly estimate? Oh, 23,000+, give or take. Wouldn't you love to add "Monarch tallier" to your CV? We can't think of a more peaceful and meditative pursuit. Even if you can't make the Feb. 4 party, best get info on the Monarchs before the prep to flit away again for another half year.