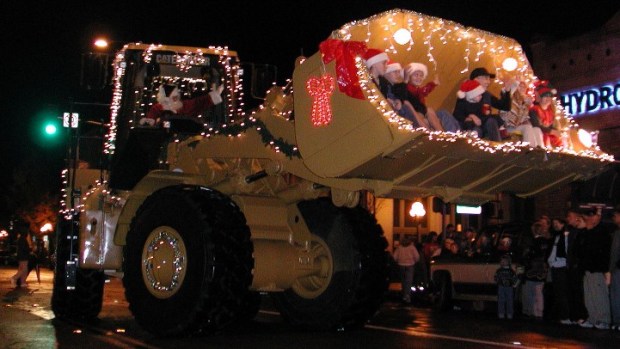 Calistoga
Tractors and other big vehicles roll through Calistoga in their holiday finery on Saturday, Dec. 1.
MERRY MACHINERY: California is fortunate enough to be home to some offbeat parades. Oh, not just the processions based around fruit, although goodness knows we have a few dozen of those. We're talking about those parades where the participating vehicles or vessels are anything but cars or the traditional floats. Think the December boat parade in Newport Beach or any of our old-timey, decked-out-in-holly trains. But one of the parades that truly takes the fruitcake on the quirky holiday front is Calistoga's Lighted Tractor Parade. Yep, it has lit tractors, as the name would suggest, and bulldozers, and the occasional balloon gondola hitched to a truck. Basically it is a merry gathering spot for those vehicles that normally wouldn't be seen in any other parade. And they're gussied up to boot, in bulbs and ribbons, lending the whole affair a slightly industrial, agrarian air. Think of it as a fine way to combine some industry and workaday world with a seasonal celebration.
DATE AND DETAILS: The Calistoga Lighted Tractor Parade rolls on Saturday, Dec. 1, but it isn't the only part of the wine country burg's big yuletide celebration. A pancake breakfast that morning, a village holiday tour, caroling, cider, and other holly-and-wreath-lined to-dos fill out the three-day weekend. If you're planning on doing some vino-tasting soon or quality mud-soaking, and haven't had your fill of small-town holiday charms in a long while, grab some curb for some twinkly tractor action. It doesn't seem like Christmas 'til a giant machine normally used at construction site rolls by, driven by Santa.