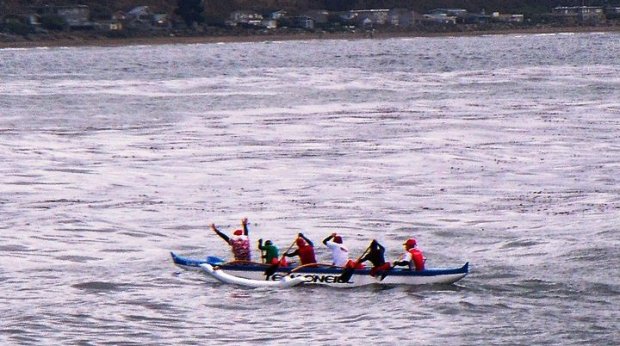 Capitola
Santa's paddling toward Capitola to kick off Christmas 2011.
WATERY HELLO: When the Man in Red does his December rounds -- you know, the mall stops and the school appearances and the concert cameos so forth -- how would you say he generally arrives? Oh, maybe via reindeer, maybe via sedan or an SUV on loan (that's when the reindeer need to stay at the North Pole to rest up). But Capitola pretty much has everywhere else beat in the dramatic, California-perfect arrival department. Why in particular? Because Santa shows up in the ocean-side burg via outrigger canoe and surfboard each and every year. Of course. It's Capitola. Would you expect anything else? Would you want to see Kris Kringle arrive in a station wagon? No. Put the man in the big beard in some board shorts and a lei, stat.
FESTIVE DETAILS: The watery arrival happens at noon on Saturday, Nov. 26. It's free. "Once Santa has toweled off," says the chamber of commerce site, he'll chat on the beach about wish lists and such. If you're down Capitola way, and have a tot, and have a camera, it's a sure-fire swing-by. Think of the photos for the holiday cards. It's a California Christmas when Santa's on the sand.