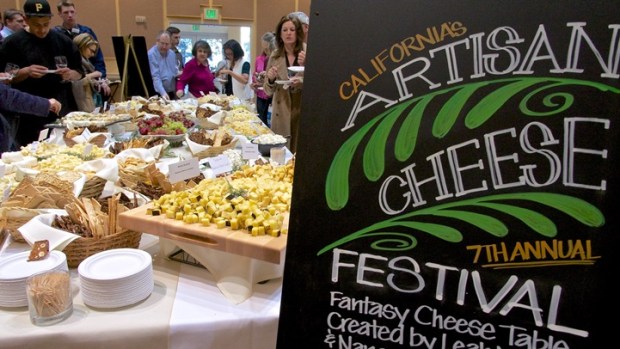 Derrick Story
A creamy centerpiece of California's Artisan Cheese Festival? The Grand Tasting. Make for Petaluma from March 21 through 23.
WE'RE NOT SAYING... that you don't loooove -- that's "love" but spelled out long, for extra emphasis -- going to a cocktail party where you only know one person and she's busy with other people, so you have to engage in small talk and stare out the window to pass time, because we're pretty sure it is one of your most favorite things to do ever. But, if it isn't, and we're not making assumptions, we'll just bet that you find touchstones to help you make it through the night, if the cocktail party in question is some how mandatory. (Aren't those the best?) One common touchstone is an animal to visit with, if the host has a dog or a cat, and another is a beautiful garden to admire. But let's add a third, of the edible sort: a perfect cheese plate. This is a requirement of any cocktail party worth its salt-rimmed margaritas, and something that should be happily anticipated, even if you're not looking forward to weathering all of the weather-type small talk. But what if the cheese plate is already picked over when you arrive? It's a true bummer. The only left thing to do, while you break from the small-talkery, is this: Daydream about going to a mondo cheese event, where the cheese squares and cheese triangles and creamy blobs never run dry.
OH, AND THERE'S ONE HAPPENING... in Petaluma from Friday, March 21 through Sunday, March 23. It's California's Artisan Cheese Festival, hooray, and the makers of bespoke dairy goods will be there, hooray, and there shall be much consumption of goat cheeses and bries and tangy stuff. The Grand Tasting on Saturday night is a centerpiece of the weekend, and participants were just announced on Feb. 18. They'll include Cowgirl Creamery of Point Reyes Station, Fiscalini Farms of Modesto, and Pug's Leap of Petaluma. It's a sumptuous night of taste-snackery, and the small talk? Well, it tends to be big talk, since it revolves around everyone's mutual devotion to the cheese-based arts. Want tickets? Best get on that, quick, as quick as it takes you to find the dog or cat at a cocktail party, the better to hang out with a sympathetic someone who doesn't want to know what you do for a living or the last movie you saw.