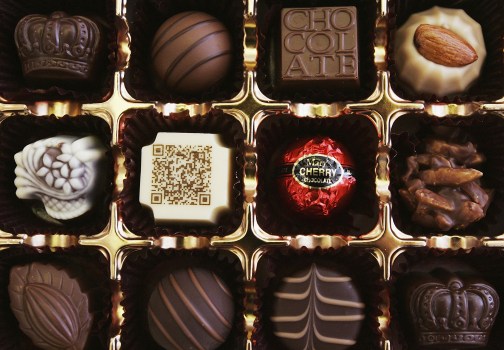 Getty Images
Chocolate and vino? They're old pals. Enjoy them together during the weekend before Valentine's Day along the Madera Trail.
THAT CLASSIC HEART-SHAPED BOX: Rare is the holiday-themed product that transcends what it does and becomes a pop culture icon. Oh, for sure, jack-o-lanterns are in this category, and sparklers at the Fourth of July, two things that are instantly relatable to the holiday they represent. And what of a heart full of chocolate? It's the quintessential symbol for February 14, no doubt about it. But chocolates are best eaten with somebody sweet -- that's so true that confectioners should put it, in fine print, on the back of every box -- and if you're a wine-loving grown-up, they're even better with vino. Make that a rich red wine, perfect for a winter's day. So why more Valentine's events don't bring the chocolate, that sweet symbol, together with adult beverages, which many people enjoy on their romantic dates, together in one major mondo lovefest of snacking and sipping, well. We don't know. We're thankful, though, that some people and places are on top of how well this duo works come the lovingest day of the year. The Madera Wine Trail, that happy winery wend through Gold Country, is very much on top of the situation with its pre-Valentine's Wine & Chocolate Weekend.
THREE NICE WORDS TOGETHER: We can't really decide if "wine," "chocolate," or "weekend" is the best word of the trio, but no comparing: They all win. And you shall as well if you make for the hills on Saturday, Feb. 8 and Sunday, Feb. 9. Ten wineries along the picturesque trail'll be going the cab and cocoa route, with pairings, tastings, winemaker chitchat, fancy bites, and live, in-winery entertainment to canoodle by. We mean talk by. Whoops? Oh, who are we kidding; it's a Valentine's to-do, with wine and chocolate. You'll steal some kisses at the tasting bar, with the special someone you arrived with, we're assuming. It's a grand way to get out for the Hearts Holiday, and keep to the spirit of the heart-shaped box, but with a travel-and-taste twist. We raise our glass, and a gooey piece of candy, to you, Madera Wine Trail.