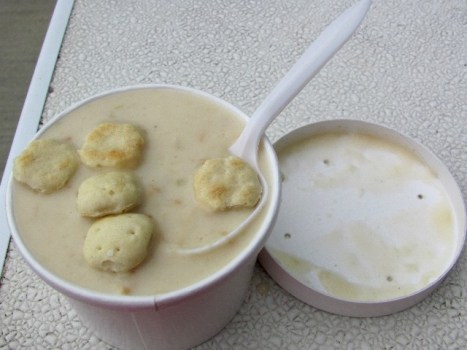 Alysia Gray Painter
It's Chowder Day in Bodega Bay on Saturday, Jan. 29.
QUESTIONS: Some would suggest that the biggest point of contention among chowderists is the whole New England vs. Manhattan debate. Should a stewy, seafoody bowl of goodness have tomatoes, or not? We'll let that one rage for awhile more (awhile=decades to come), while we say the bigger question this: crackers, or no? Our vote is always crackers. And Chowder Day, which is happening on Saturday, Jan. 29, will have plenty of cracker-laden-ing possibilities.
FOR EXAMPLE: Eight area restaurants will be stirring up pots of a dish much associated with the area. Can you try over a half dozen thick bowls of clammy eat-'em-up? Did you just think "twist my arm" when you read that? Of course you can go for over a half dozen. Every chowder fan can. The cost is $5, everything gets bubbling at 11 a.m., and proceeds help fireworks on the Fourth. So it is all good, in the way that chowder-based activities usually are.