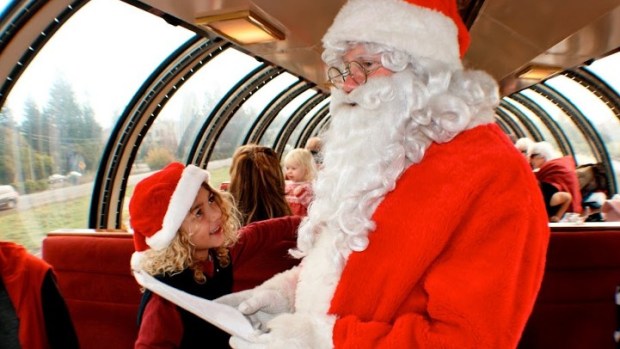 Napa Valley Wine Train
Tickets for the Napa Valley Wine Train's Santa trips are now on sale.
WAIT, WHAT? Normally we expect to see holiday decorations in stores around October -- awww, we're just joshin', you know we mean August -- so hearing about tickets going on sale for what is very much a December event made us pause and sniff the air for traces of gingerbread. Had we accidentally slipped through some time hole? Was it Christmas and we didn't even know it? Nope, it is still May, but the Napa Valley Wine Train just announced that tickets for its popular Santa Trains are now on sale. Of course, when we saw what it was we understood; ah, we said, the Napa Valley Wine Train's Santa liners. Those things sell out way far in advance. Maybe not May, but there are fans who plan months in advance, so you know they're on this. And if you'd like to be as well, here are the fa-la-la details.
OPENING DATE: The first train chugs out of the station on Monday, Nov. 26; the final one is on Thursday, Dec. 20. You can see right there that this isn't the biggest of holiday schedules; it seems like more and more Christmas-themed events roll right into the second week of January. Not the Santa Trains, so, again, planning in advance is good. A few things of note? Tickets run from twenty dollars to twenty five, which reveals these are about the trip and kids meeting Santa and not about wine and lunch. Just so you know. Also, a Wine Train rep said more trains were added this year, due to demand. Ho ho ho, indeed. Here's your ticket info, Santa sweethearts.