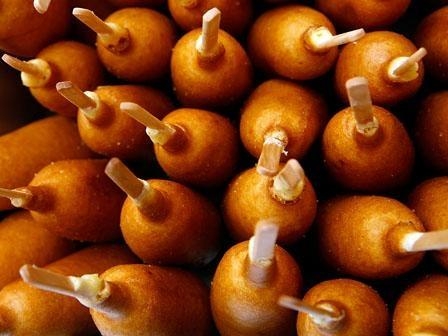 Corn Dogs
A mondo corn dog-eating contest comes to the California State Fair.
STICK SCENE: A state fair is known for many things -- a robust midway, sweet animals, and gooey treats -- but chief among its hallmarks is the outlandish contest. This probably doesn't need to be defined, but it can include a contest to see which fair goer can build the tallest card house or shuck twenty ears of corn in under a minute. And the wacky competition that seems to be gaining the most buzz at the 2011 California State Fair? It involves corn dogs. As everything probably should at some point.
THE DETAILS: The grand finals will be on Saturday, July 23 at 4 p.m., but there are a couple of run-up events on Thursday, July 21 and Friday, July 22. The fair spells out the record to beat for mustard-loving contenders ("15 corn dogs in 7 minutes"). Hoo wow. Are you thinking of all that delicious golden batter? Are you thinking of it 15 times in a row? Filling. No word if condiments like ketchup or relish will be set out, but perhaps not. We can't even enter into the whole ketchup-on-a-corn-dog controversy here (we're for it, personally). For a peek into the fair's other big contests, eye the full roster.