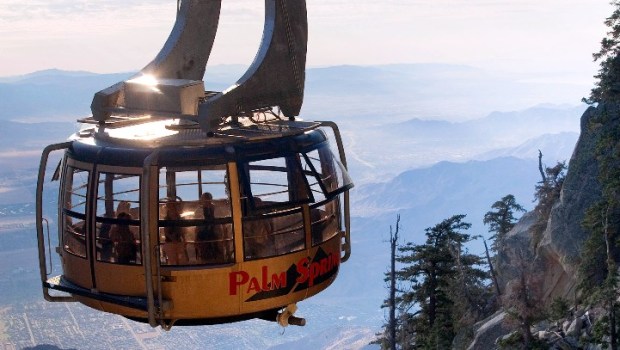 Palm Springs Aerial Tramway
The Palm Springs Aerial Tramway is on the California Fun Spots coupon list. Wheeee!
FUN SPOTS GALORE: Oh, Golden State. You're so very stretchy, you're so girthful, you're so mountainous, and then. And then. And then you have all of those glorious beaches. You're on the gargantuan side, is what we're getting at, which means that the interesting attractions and landmarks and venues that call you home are pretty dang plentiful. Which in turn means that when Visit California puts up a list of California Fun Spots coupons -- they are what they sound like -- that that particular list tends to be, well. Long-ish. Not that we're complaining. We like seeing the Angel Island Company and the Fillmore & Western Railway Company and the Palm Springs Aerial Tramway on the list. Diversity of region and transport and experience. Bravo, that.
ON THE ROSTER: Things like two bucks off at San Marino's own Huntington Library and a free child admission with adult admission at the San Francisco Zoo (that's a paid grown-up ticket, of course). Every buck saved counts, right? Because you have to buy a postcard for your mother at the end of your visit. Mom's expecting one. She'll never say so, but she is. Buy her the prettiest card in the bunch, we say. Which is hard, since you'll be at a California attraction, meaning there will be a surplus of pretty postcards. Oh, Golden State. Like we said. We're overwhelmed by your girthful, beachful plenitude. Good overwhelmed, but overwhelmed.