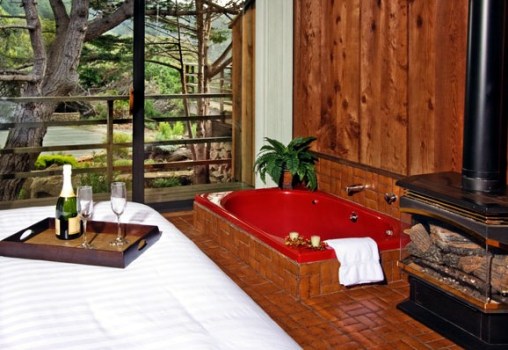 Timber Cove Inn
A bathtub next to a fireplace. Yes and yes. Find it at the Timber Cove Inn.
CRACKLE CRACKLE: Let's be honest. There are those who can pretty much sit in front of a fireplace all year long. Sit? Loll, more like it. We're one, and we're betting, if you're not, you've flirted with the idea. Because. Fireplaces are so cozy, is all. But, when a cold snap really snaps, and hard, a fireplace is nearly a must. Sonoma County just gave a shout-out to the fireplaces of Timber Cove Inn, in Jenner. So we're shouting-out the shout-out.
PRETTY VISTAS: If you've driven the twisty turns near the ocean-close community of Jenner, you know the area is smack against the Pacific. Meaning views. Timber Cove has got 'em, plus loads of in-room fireplaces. We like the one pictured above, which is cheek-by-jowl -- or is that log-by-soap? -- with a red bathtub. Oh yeah. Maybe that will be our new obsession: Finding fireplace-adjacent bathtubbery. One needs hobbies, right? Timber Cove Inn also has a lot of specials going; check 'em out, snugglers.