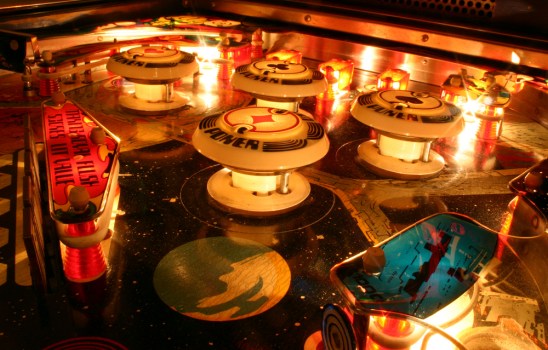 Shutterstock
Prom clothes, pinballs, and guffaws courtesy of Feminist Tendencies? This is happening, at the Pacific Pinball Museum in Alameda. Date? Saturday, March 8.
YOUR PROM: We're of the slightly mischievous belief that, rather than asking a new acquaintance what they might do for a living, you should ask them this: Did you go to prom? No joke, the answer you get will probably be far more intense and detailed and opinion-filled than someone simply spouting their job title. Everyone has prom-based emotions, including those who didn't go or chose not to go or decided to throw an anti-prom the same night. But what of the grown-up prom? Those seem far more mirthful than the ones we encountered in school, if only because, perhaps, we don't have so much riding on everything being perfect. (Low-pressure laughs tend to rank higher than posing for the ideal snapshot in that quintessential balloon archway.) And if that prom is in a pinball museum? Well, no one is wallflowering it up, because everyone is at the machines to go for some smokin' tilt action. Throw in some comedy and general good vibes and you have, my friends, the Pinball Prom.
THE DRESS CODE: "Come in Prom Attire (or not)" reads the Pacific Pinball Museum's site, so there you have it: low, low pressure for fun, fun times. Of course, fingers crossed that you do break out the satin cummerbund, or the satin frock, or the satin anything, because satin reflects light and pinball machines are all light. Feminist Tendencies will be doing the comedying-up of the evening, and Belles & Chimes, the Oakland-based "pinball club for women" is the host. Cost? Fifteen bucks. Place? The Pacific Pinball Museum in Alameda. Pressure, weirdness, expectation, dashed hopes? None of those. Because look: Proms are great, and many of us had an exceptional time walking under that balloon archway long ago. But even better? The idea that we can prom it up, our whole lives, whether we're way past school or not, and that pinball and laughs might be involved.