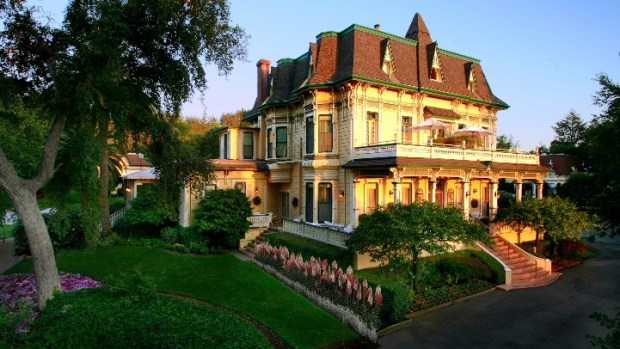 Madrona Manor
Madrona Manor and Wine Country Bikes are offering people a chance to Cycle Dry Creek.
BIKE DAY: What's your bike snack? Fruit roll-up? Cheese stick? Fruit roll-up *around* a cheese stick? (Don't judge; just try it.) How about a deluxe gourmet picnic? Sorry, cheesy fruit-roll-up thingamabob. We'll probably have to go for a tricked-out meal to keep the wheels turning. And such a picnic is part of the Cycle Dry Creek package, which is being offered by Madrona Manor in Healdsburg and Wine Country Cycles. We like when two interesting places that don't necessarily traffic in the same thing pair up for an intriguing partnership (yeah, we want to make another fruit roll-up/cheese stick analogy here, but we'll refrain).
THE DEAL'S DETAILS: Double occupancy at the posh stayover spot kicks off at $900 for two nights. What's on board for that? A swank room, a cycle tour of Dry Creek Valley complete with guide, that mooned-over picnic lunch we mentioned earlier, and massages. Must have massages on the tootsies and everywhere else following a biking day out. There's also a "full buffet breakfast daily." to get you to that picnic lunch. The package kicks off on Monday, Aug. 1 and pedals through Nov. 30, 2011, meaning you can hit wine country right at harvest if you time it right. Wine country and harvest time? There's yet another twosome that have a great partnership going.