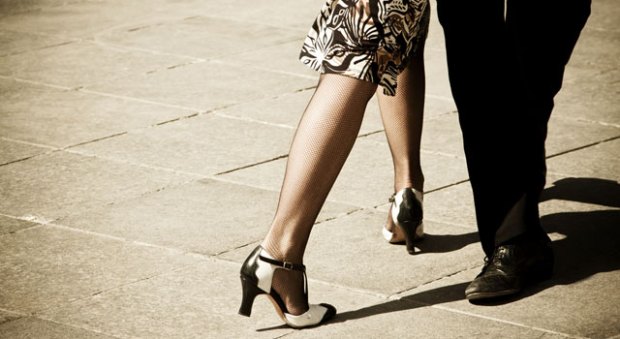 Shutterstock
Two hours of dance, led by some great instructors? It'll be a snap. The Claremont Dance-a-thon swings into Berkeley and helps raise funds for the Breast Cancer Research Foundation on Friday, Nov. 22.
TWO HOURS OF TOE-TAPPERY: When most of us visualize a "dance marathon," we hearken back (because hearkening back is such a rare and antiquated activity) to days of yore (same goes for remembering "days of yore"). We think of the all-nighters of the 1950s, where youngsters in poodle skirts and pompadours clung to each other, swaying, in order that they be the last couple standing. Er, swaying. Dance marathons still exist these days, even though their pop culture heyday may be behind us. Or is it? Today's keep-moving extravaganzas all seem to have fundraising at their hearts, or most do, which is a nice and noble thing. Also? You don't see the day-long or 12-hour shake-it fests any longer. Now the dance marathon keeps it to a sensible single night, or a couple of hours. Meaning? No one needs to be intimidated: Everyone who loves to move can probably take on a couple hours of solid dancing.
IF THIS IS YOU... best make for The Claremont Hotel Club & Spa on Friday, Nov. 22 for The Claremont Dance-A-Thon. You'll learn Salsa, Afro-Peruvian, and more from the Bay Area's "top choreographers and instructors," and you'll see 10% of the night's proceeds go to the Breast Cancer Research Foundation. A ticket is forty bucks at the door, less if bought before, and check it: You'll be doin' your strutting inside the Claremont Ballroom, which is pretty dang posh. Oh goodness... And we haven't mentioned the length of the marathon yet. Well, before we did, briefly, but let's reiterate it again, as that seems fairly important. Nope, you're not expected to dance for a whole entire day, but you will move for two hours. Doable? Helping a good cause? At The Claremont? Yes and yes and yes.