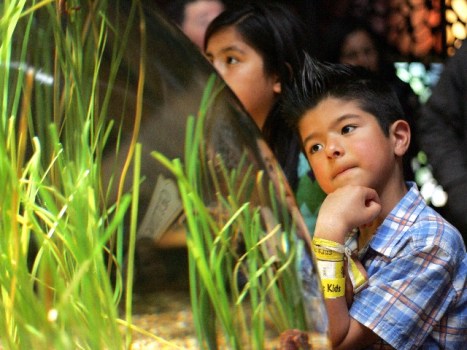 ©Monterey Bay Aquarium by Randy Tunnell
Visitors enjoying exhibits in the Secret Lives of Seahorses at Dia del Nino 2009 at the Monterey Bay Aquarium.
DECADE CELEBRATION: The Monterey Bay Aquarium marks its 10th Día del Niño celebration on Sunday, April 10. Not only will admission be waived for all aquarium visitors ages 12 and under, but the institution will have several musical, tale-filled goings-on through-out the day. Several bilingual presentations are on tap, including a "sea otter feeding and training session." (Watching a sea otter learn new skills is truly one of life's not-so-little joys). There will also be mariachi music, and a performance by 12-year-old singer Gabriela Sepulveda).
OCEAN GUARDIANS: The craft-making portion of the day will focus on the creation of "ocean guardians." What ocean guardian would you make? Ours would likely be heavy on the tentacles. Or maybe a giant and wise Fiddler Crab. The festival will run from 10 a.m to 6 p.m., but you'll want to check and see what is happening when before making for Monterey.