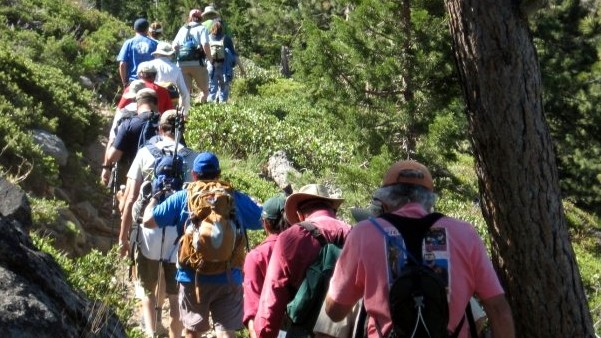 Donner Party Hike
The Donner Party Hike sets off into the Sierra Nevada on Saturday, Oct. 13 and Sunday, Oct. 14.
GOLDEN STATE STORY: California has many famous, and infamous, historical anecdotes and moments, but few continue to capture the imagination and curiosity of the Donner Party. Just those two words said together summon instant reaction in many quarters, and we surely don't have to explain why: Felled by illness and snow and the lack of food, the long-ago pioneers made what surely had to be desperate decisions on where to find sustenance (meaning the word "cannibalism" and the party's name will be forever entwined). Of course, many history lovers and fans of the Truckee area don't merely recoil or search out sordid details of this infamous event; they want to know more about the band of pioneers that ventured into the snowy Sierra Nevada in 1846 and the larger details of the trek. With that in mind, an info-craving gathering comes together each fall; hikers head out to enjoy Donner State Memorial Park and learn more about the adventurers who crossed, or attempted to cross, one of North America's most epic mountain ranges.
HISTORICAL HIKE: The next annual outings are set for Saturday, Oct. 13 and Sunday, Oct. 14. Saturday is described as a hike and Sunday as a Donner-focused walking tour, but there's a two-day package that will put you on both. You'll get a chance to experience the beautiful and wild Truckee area before the snow falls and see some of the region the pioneers and Westward-Ho'ers took on over a century and a half back. It's a grand idea; think of how many moments remained locked in textbooks, and how few come to life via a visit to the location, or adjacent, at least. If only more historical moments could have an invigorating and informative hike attached. For more info, the Donner Party Hike has a Facebook page.