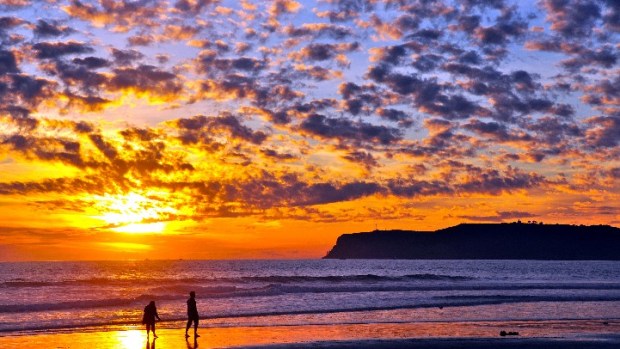 OrangeandPark.com
Dr. Beach named Coronado "America's Best Beach for 2012" on Friday, May 25.
CAREER DREAMS: A lot of people regularly revisit their career path to see that they are headed in the right direction and the ship is looking watertight. We have two small pieces of advice for you when you next check in on the health of your working life. One? Try to fit a description as cool as "America's Foremost Beach Expert" somewhere on your CV or business card. And two? Make sure you have a job that is very much tied to the start of summer. Because if you have both of those things going? You probably are living the dream, or at least a dream. Dr. Beach certainly is. Dr. Stephen Leatherman -- ayup, there's really a doctor behind "Dr. Beach" -- knows his stuff, given his studies on coastal research. And every year Dr. Leatherman -- er, Dr. Beach, rather -- releases his top picks for America's Best Beaches right before Memorial Day Weekend. And number one this year? Coronado in San Diego.
GOLDEN STATE SHOW: Coronado carries a double weight, in a way; it takes the top spot and it is the only California beach on the list for 2012. (Hawaii and Florida both have more than one beach that placed.) And we hear the good doctor; Coronado is indeed an exquisite beach, but, more than that, it gets a lot of play. Yes, a quiet stretch of sand is lovely, but seeing people out on a sunny Saturday is very much a part of what imbues a beach with its character. So, cheers, Coronado, and the rest of the winners. Now, off to figure out how to get a cool tagline on our own business card...