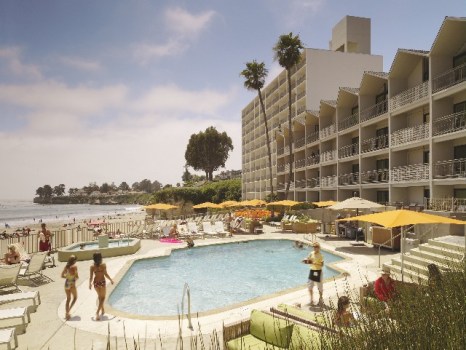 Matthew Millman
It's Valentine's Day, Santa Cruz-style, at the Dream Inn.
HELLOOOO, MORE SLEEP: In a perfect world, we'd eat cookies for breakfast, Bloody Marys would come perfectly pre-blended, and every hotel everywhere would offer early-afternoon check-out. But the first two seem more likely than the third, if only because there's the whole "prepping for the next night's guests" that hotels must do (we'd hate to unlock our room and find the previous night's guests still snoozing). This makes the 1 p.m. check-out feature on the Dream Inn's Sweet Treat Romance deal extremely appealing.
ALSO APPEALING: Traditional tenderheart touches like the spreading of flower petalage and the serving of sparkling drinks. And the fact that the starting price starts with a "1" also appeals: $199 for a night. Granted, it is a buck below $200, but we do love a good one when it comes to a good hotel. The Dream Inn is very near the beach in Santa Cruz, which will make sleeping in late kind of challenging. Choices.