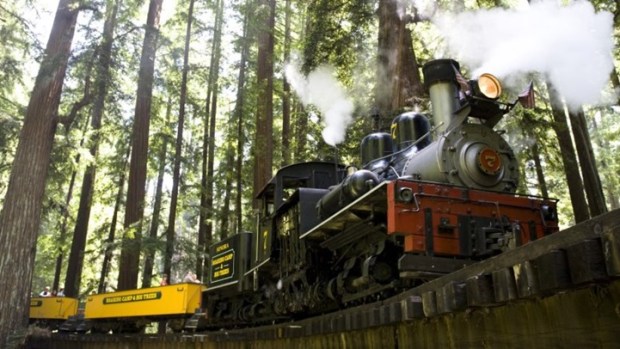 Roaring Camp Railroads
Rabbits and rails? It's a thing, come Easter, at the Roaring Camp Railroads in Felton.
DIFFERENT YEAR, SAME HIDING PLACES: Look, no judgment here. We know the Easter Bunny is way busy around the springtime, what with the donning of natty vests and the tying of bowties and the hippity and the hopping. And we haven't even gotten to the whole egg-hiding thing, which has to take up the bulk of his time, as does the arranging of Easter basket goodies. (Yep, that green plastic grass gets everywhere for the Easter Bunny, too; he has no tricks on managing it, either.) So when it comes time to hide eggs, welllll... He might go back to the very same secret yard spots he went to last year, and the year before. The place under the rose bush, the spot near the bird fountain. This is why it is good to mix it up, every so often, and head for a new location where the Big Bunny is doing the egg-hidery thing, just to keep it fresh. And if a steam train ride is involved, well, so much the better.
YEAH, THAT WAS A JUMP... but then bunnies are known for jumping. We're talking about Roaring Camp Railroads here, out of Felton, and we're talking about Easter, obviously, and we're talking about what a certain long-eared fellow does in honor of the holiday (hide eggs). Group all of those delightful things together and you have a nice family outing and a chance for the kidlings to look for eggs in all new spots. (Please -- they remember where the bunny hid the eggs last year, those bright young tots.) The upshot? The steam train heads up to Bear Mountain, "over Indian Creek Trestle and through the Santa Cruz Mountains," for a little egg-looking-for liveliness. Dates? Saturday, April 19 and Sunday, April 20. And will the Easter Bunny make a cameo? Please. That guy loves vintage trains. Bunnies live in the woods and trains wend through the woods, so it isn't a pairing that's too offbeat. For ticket prices and more hippity-hop info, hop hop hop here.