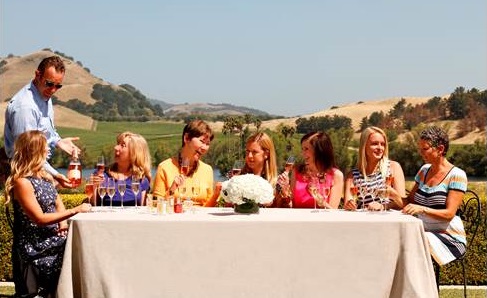 Domaine Carneros
Domaine Carneros of Napa Valley will teach guests the finer intricacies between smelling a perfume and smelling a glass of wine via the Making Scents of Wine classes.
TWO THINGS TOGETHER: It's not unusual, during museum tours and art classes, for a guide or instructor to ask viewers to compare and contrast two paintings or sculptures or a painting and a sculpture. Maybe the bright red in one artwork sets off the olive green in another, and, between the two, you have a whole new medley to consider and appreciate. The same principle works in the field of taste, scent, and full enjoyment. Smelling a flower may invoke a craving for a particular bourbon, or catch whiff of a salty breeze may summon coconut oil to your mind. So what would it be like to sit down at a winery -- say, Domaine Carneros in Napa Valley -- and smell perfumes set alongside glasses of wine, the better to fragrantly ferret out all the deeper notes in your drink? The wine lovers of Domaine Carneros will be exploring just that, starting in July, with the opening of the sparkling winery's new Making Scents of Wine program. Picture -- with your nose, if you will -- sampling fragrances, and then sips, and thinking about how the two play off of each other, in all of the interesting and deep ways.
PLUS... master perfumer Sarah Horowitz will be curating the essences, so count on the perfume-wine pairings to all have back story. Will you smell vanilla perfume and then go looking -- or sniffing -- for a similar note in a glass of wine? You shall. The price is $125, it is happening over four dates over the next year (July 20 is the first, with the next falling in October) and "local cheeses and charcuterie" shall be served. Call it a fragrance feast for the nose, and a fine way to break out some of the olfactory goodness from your favorite grape drink, courtesy of some nearby perfumes ready to tickle the senses.