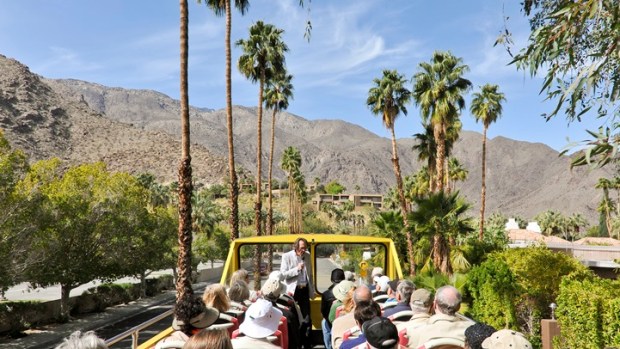 Modernism Week
Modernism Week in Palm Springs? It's full of tours, cocktails, and mid-century to-dos. Join the Fall Kick-off from Oct. 11-14.
THE CITY AS STAGE SET: There are certain towns and municipalities that are so photographable and so pristine of form that one almost imagines that early city planners doubled as theater designers or film set specialists. Solvang is a perfect Danish burg and Amador City is the Gold Rush era embodied (or em-town-ed, is probably more accurate). And what of Palm Springs? Well, there's a reason that "Mad Men" and Rat Pack bio pictures and any production set during the years of 1953-1967 heads out to the desert resort cities with cameras in tow. It is mid-century beauty taken city form, period. Yep, there are buildings from the '80s and '90s, and, indeed, some mid-century favorites have been lost. But the number of architectural wonders that remain is a feather in the sunny city's cap. Or a corsage on its vintage 1960s pinafore, is the better way to describe it. If mid-century everything is your jam, we bet you're a fan of Modernism Week, the area's mondo winter celebration of the era.
BUT... you can get your modernism hankerin' addressed sooner, via the Modernism Week Fall Kick-Off Party. Sashaying from Friday, Oct. 11 through Monday, Oct. 14, the Fall Kick-Off will offer double-decker bus tours, a "Suddenly 1954" cocktail reception, a modernism-themed yard sale (think "books, baubles, and bar tools"), and walking and bike tours. It's a mini-feast for the senses, though only "mini" in comparison to the larger wintertime shindig; there will be plenty to take in over the long weekend. And October in Palm Springs? My oh my but things are getting extra pretty. Warm days but those long-shadow-y fall nights kind of steal the stark vistas and cacti-dotted show.