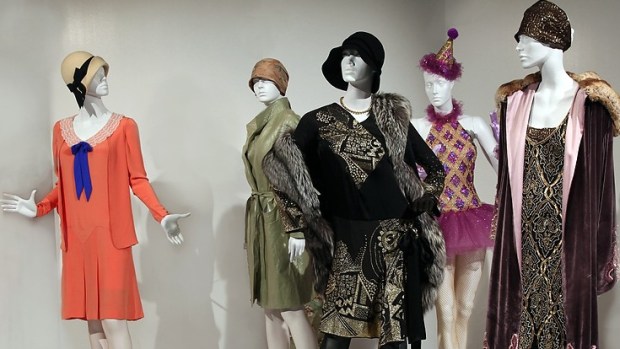 "The Artist"
Costumes from "The Artist" were part of the 2012 Oscar display at the Fashion Institute of Design & Merchandising. The 2013 exhibit will debut on Tuesday, Feb. 12.
HEMS AND RUFFLES: While some dedicated film fans may swear that acting makes or breaks a movie, or the writing, or the directing, or the lighting, or the sound, few people quibble with costumes. Oh, anachronisms may be be argued -- a zipper may show a decade ahead of the zipper's common use -- but costuming tends to be one area of a production that is nearly criticism-free in the public's gimlet eye. We love clothes on big screens, especially when they're rather outlandish or flouncy or the type of outfits one would never see in the ho-hum everyday world. But getting to see all of those flounces up-close is a bit trickier, unless you're thistight with someone who owns a costume warehouse. Or, of course, you can plan a visit to the Fashion Institute of Design & Merchandising in downtown Los Angeles, which puts over a hundred costumes from Oscar-nominated movies on display each and every year. Yep, the real costumes from the real movies. Not knock-offs. And the price to see this fabric-draped delightfulness? Exactly zero dollars.
THIS YEAR: The Academy Award nominations are set to be announced on Thursday, Jan. 10, meaning that the sartorial slate for the FIDM exhibit is not yet set in stone. But the show has its dates -- Tuesday, Feb. 12 through Saturday, April 27, Tuesday through Saturday -- and the moment the noms come in the mannequins are readied for those special studio-van deliveries. It's one of the not-so-secret secrets of the Los Angeles awards season, the FIDM costume exhibit, but one we recommend as a must-do for movie lovers, and especially those movies lovers sweet on what characters wear. Plus, standing around sizing up size and shoulder-width and such is a side pleasure of visiting the free exhibit. Actors are always taller than you think they are, or the opposite, once you see their costume from feet away.