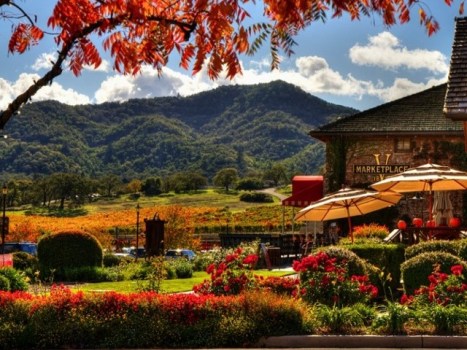 Mars Lasar
Fall in Yountville? Yes, please. The Napa Valley burg's annual chili fest cooks on Saturday, Oct. 6.
THAT TIME OF YEAR: We'd never try to horn in on a small town's sweet and chummy community celebration, but we get to thinking of Yountville, a lot, 'round this time of year. It's the time of year that makes us say folksy things like 'round instead of around, and it makes us think cozy, comfort-food thoughts. It's autumn, in short, and we, like millions of others, like autumn in wine country, but especially when the madness of the crushing has begun to wane but the leaves and landscape continue to have that fall hue. It's sort of a brief moment, between harvest and the holidays, when things calm down a bit and communities can throw a parade and a chili cook-off. Oh, you knew when we said "comfort-food thoughts" before that we were making our way to the word "chili," of course; and Yountville's annual chili party is set to roll on Saturday, Oct. 6.
IT'S PART OF YOUNTVILLE DAYS: The weekend-long festivity starts on Friday, Oct. 5 with a screening of "Cars" and rolls into Sunday for the big parade. But Saturday is about chili and wine, which we like, since savory, bean-filled stews are so often paired with beer. But this is Napa Valley, where there's typically a tall, slender bottle within reach of most edibles, so the chili is consumed with pinots and syrahs. (Okay, there's beer on hand, too; it's a classic, right?) In short, it's just a fine time of year to be up Highway 29 and enjoying some foliage and casual feasting. The holidays'll come soon enough, with their crafts and their nogs and their caroling, but we like the quiet moment just before. Especially if a pretty town and something spicy in a bowl is involved.