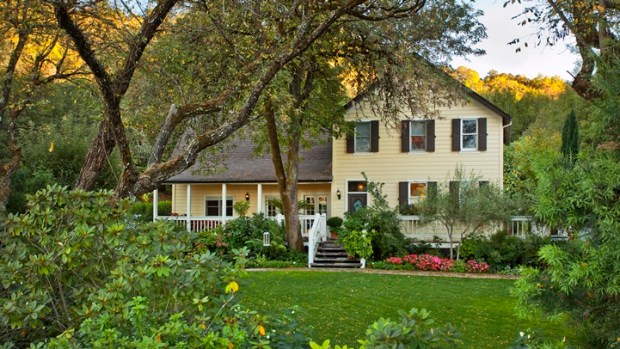 Farmhouse Inn
Want to learn about jam, edible flowers, and more? Make for The Farmhouse Inn in the Russian River Valley.
BACK-TO-THE-LANDIA: Boning up on how to do what our foremothers and forefathers did just a few generations ago is both a pleasure and an education. The pleasure is in the serving and enjoying of the delicious foodstuffs made from scratch; the education is in the making them. And while many an institute and kitchen school offers classes in everything from crepes to burgers and beyond, returning to the farmhouse arts very often takes, well, returning to a farmhouse. The Farmhouse Inn can help out on that front, given that the Russian River Valley property is about as farmhouse-y as all get out and it offers classes in jam-makery, butchering skills, foraging for flowers and herbs, and egg collecting. Since you'll be right there, in nature, or in a very rustic setting that's highly nature-adjacent, consider that much of your classroom will be the outdoors. And the lessons learned? They have a vintage sheen, for sure, but they aren't sweet simply for nostalgia's sake: Learn to make jam now and you may make it a habit for years to come.
THE CULINARY EXPERIENCES: Let's land on jam first, since that often helps start the day. You'll pick your favorite herbs in the Farmhouse Inn garden -- while sipping white peach Bellinis, which sounds pretty perfect -- and then head to the Relish Culinary center for the making of peach-basil jam (there's a peachy peach-themed lunch as well). But if sweet spreads aren't your thing, then the Farmhouse offers lessons in butchering and roasting pigs, the foraging of edible flowers, and the art of egg collecting (and egg enjoyment). Feeling summer's spell on you just thinking of these homey pursuits? Then make for Forestville for that white peach Bellini, lessons in edible flowers, and a day making and thinking about food at a true-blue farmhouse.