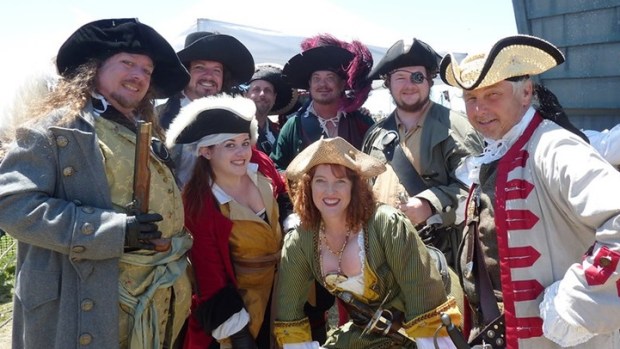 Northern California Pirate Festival
Pirates merrily storm Vallejo's Waterfront Park on Saturday, June 14 and Sunday, June 15.
PARENTAL GOOD TIMES: There's no template for celebrating the parent holidays of May and June. Your mom's into rodeo or afternoon tea or afternoon tea served at a rodeo or none of that or some of that, somewhat? Cool. We don't have to walk the prescribed roads that we're often told to walk. Same, of course, goes for your father. Yep, you could buy him another soap on a rope, or something for his tool set, or you can really consider what your dad's been into, and maybe lost, over the years. Was he goofier when he had you around the house? Was Halloween a big deal? Did he dress up? Then say no more: Your father may be a pirate at heart, or at least a fictionalized version of the seafarers of yore. Why costuming and cosplay and gussying up is left to the province of comic convention goers we're not sure, but wearing something outlandish outside of a convention hall continues to take further hold. And if you and your pops are into that, hooray hooray. Dig out your tri-cornered hat, and your pearl-button breeches, and make for Vallejo on Father's Day Weekend. That's Saturday, June 14 and Sunday, June 15, and the occasion? It's the Northern California Pirate Festival.
ARRRR AND SO FORTH: Attendees won't simply be dressing up and muttering "me matey" over and over. There'll be pirate encampments plus "hearty ales, swimming mermaids, and four stages of continuous entertainment." Nope, you don't need to actually dress like an ocean-voyaging adventurer, or spout the lingo, but you are welcome to, if you wish. It's year eight for the fest, so regulars'll probably be decked out (and that's a treat to see). Admission is ten bucks -- we're not sure how much that is in pieces of eight, to be frank -- and each day runs a full eight hours. Yeah, you'll hear plenty of arrr-ing in that time, no doubt. And will your dad remember this Father's Day as being livelier than past outings? Maybe? Like we said, tailoring a parent's day to his or her lively personality is always the road to walk (or sea to sail, if you prefer).